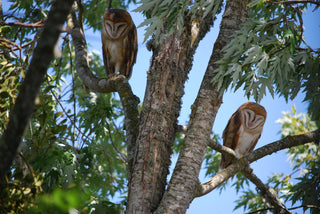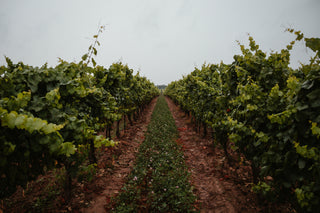 Our Vineyards
In our vineyards, cellars, and offices, Carneros Wine Company & Mahoney Vineyards focuses on the stewardship of the lands that provide for us. From the energy efficient tractors and owl boxes in our vineyards, to the solar arrays and recycle programs in our offices, we try to minimize our carbon footprint whenever and wherever we can. In fact, because we are in the agriculture business, our goal is to produce less CO2 than our vineyards offset.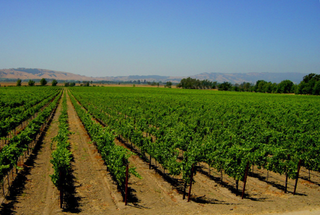 Los Carneros AVA
Las Brisas Vineyard
Our Las Brisas Vineyard is named after the winds that drive morning fog from our vineyards and usher in cooling marine airflow in the late afternoon. The cool climate allows the fruit on the vines to mature at a leisurely pace, giving the resulting wines a brighter, juicier fruit character.
Las Brisas is our workhorse vineyard, with 91 acres planted to multiple clones of Pinot Noir, Vermentino, Chardonnay, Pinot Blanc, Albarino, & Riesling. Like all of our estate vineyards, Las Brisas vineyard is both sustainable and fish-friendly.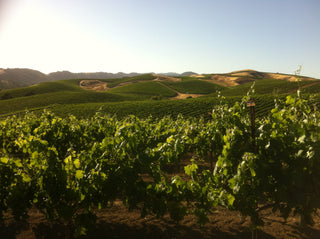 Los Carneros AVA
Mahoney Ranch
The Mahoney Ranch Vineyard is the home of our offices and is located behind the Mahoney Family home. The 45 acres of vineyard were specifically selected to focus on an array of Pinot Noir clones and 2 clones of Chardonnay which are located in our Gavin Vineyard blocks. The ridgeline vines are planted running east to west to catch the sun and the elevation of the hillside allows cooler temperatures to regulate ripening. Mahoney Ranch Vineyard is our backyard, it is the foreground to our every sunrise, and in the evening a reflection of our life's work.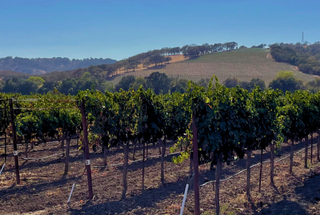 Suisun Valley AVA
Scarlett Vineyard
Scarlett's land is deep-soiled and flat, and receives ample sunshine throughout the growing season. The hills to the west of the vineyard act as a buffer against most of the cooling marine fog that blankets the Carneros region, where our other pinot and chardonnay-focused vineyards are located. Resulting temperatures in Scarlett's microclimate reach high enough to fully support varietals that need plenty of summertime sun, like Cabernet Sauvignon and Petite Sirah, the two grapes we've planted here. This scenic, tranquil AVA is located in northwestern Solano County, just to the east of Napa County.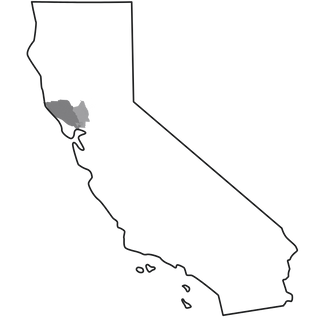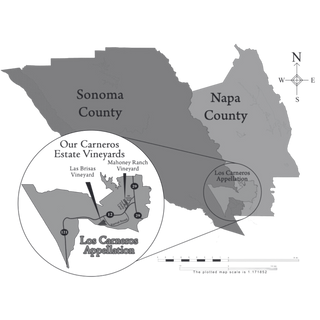 Los Carneros AVA
In the early 1970s, "Rincon de Los Carneros" was the name of a place that only existed on outdated maps and in historical society records. Today Rincon de Los Carneros is known worldwide as the Carneros Appellation. This wind-swept and fog-blanketed region located in the southern portion of Napa and Sonoma Valleys is quite literally the gateway to wine country. San Francisco native Francis Mahoney came to the Carneros region in pursuit of a dream – to grow wines that would rival those he admired from France's Burgundy region…
By the early 1970s, "Rincon de los Carneros" wasn't much more than obscure words scrawled across outdated maps. That was when San Francisco native Francis Mahoney came to wine country looking for the ideal place to grow wines to rival those he'd tasted in France's Burgundy region, and decided to settle in this "Corner of the Rams" (named for the herds Spanish missions raised there). It was located in the southern reaches of Napa Valley, below the warmer confines of the central valley floor.  Many wine industry experts said the weather was too cool there to produce great wines.
Francis thought otherwise.  He understood the greatness of the renowned wines of Burgundy were due in no small part to that area's terroir – the climactic conditions in which the grapes are grown. Francis saw similarities in those windy, foggy areas at the lower ends of Napa and Sonoma Valleys, and noticed there were in fact many things this region had in common with the vineyards in Burgundy.
It turned out he was right.  The swath of territory straddling these cooler regions of rolling land, situated not far from the north coast of San Pablo Bay, is now known the world over as the wine-growing region of Los Carneros. Its climate is heavily influenced by the cooling effect of the Pacific Ocean and a combination of summer fogs in the mornings, temperate days, and a long growing season, making it particularly superb for growing pinot and chardonnay. The Carneros wine region is an independent American Viticultural Area, having received its AVA designation in 1983.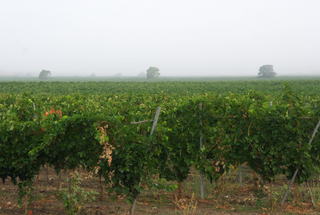 Los Carneros AVA
Weather Conditions
It is common for fog to slip over Carneros in the early evening and continue to blanket the area until well into the morning. The fog and cool sea breeze help to moderate the vineyard temperatures, providing ideal conditions for growing cool-climate varietals and allowing them to mature more evenly on the vines. This extended hang time allows the grapes to reach their peak acidity and sugar levels much later in the growing season than would be possible in warmer climates. The end result is fruit with a higher level of intensity and structure, characteristics that are quite evident in wines labeled Carneros.
Vineyard Info
Sustainable winegrowing denotes a comprehensive set of practices that are environmentally sound, socially equitable, and economically viable. These practices, in a variety of configurations, whole or partial, are being adopted more and more by grape growers and vintners throughout California to produce high-quality grapes and make world-class wines. Vineyards and wineries are using these techniques and principles of sustainability to conserve water and energy, maintain healthy soil, protect air and water quality, enhance relations with employees and communities, preserve local ecosystems and wildlife habitat, and improve their economic stability and vitality.